Principal Investigator
Dr. Xianghua Xie is a Professor in the Visual Computing Group at the Department of Computer Science, Swansea University. He was a recipient of an RCUK Academic Fellowship (tenure-track research-focused lectureship) between September 2007 and March 2012. He was appointed as a Senior Lecturer from October 2012, then an Associate Professor in April 2013, and a full Professor from March 2019. Prior to his position at Swansea, he was a Research Associate in the Computer Vision Group, Department of Computer Science, University of Bristol, where he completed both his PhD (2006) and MSc (2002) degrees.
Professor Xie has strong research interests in the areas of Pattern Recognition and Machine Intelligence and their applications to real-world problems. He has been an investigator on several research projects funded by external bodies, such as EPSRC, Leverhulme, NISCHR, and WORD. Among his research works, those of significant importance include detecting abnormal patterns in complex visual and medical data, assisted diagnosis using automated image analysis, fully automated volumetric image segmentation, registration, and motion analysis, machine understanding of human action, efficient deep learning, and deep learning on irregular domains. By 2020, he has published over 150 fully refereed research publications and (co-)edited several conference proceedings. He is an associate editor of IET Computer Vision and an editorial member of a number of other international journals and has chaired and co-chaired several international conferences, e.g. BMVC2015 and BMVC2019.
CLICK HERE TO FIND OUT MORE...
Academic Members
| | |
| --- | --- |
| | |
| Dr.Yuanbo (Lin) Wu, Senior Lecturer | Dr. Sara Sharifzadeh, Senior Lecturer |
| | |
| Dr. Su (Scott) Yang, Lecturer | Dr. Lu Zhang, Lecturer |
Postdoc Researcher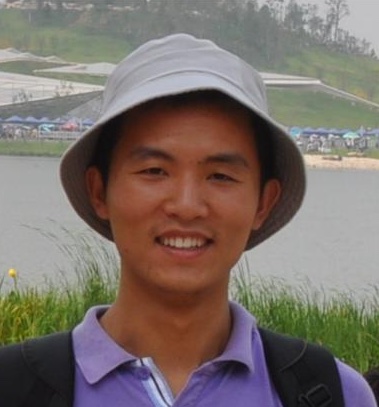 Dr. Deyin Liu
(19/06/2023 - )
| | |
| --- | --- |
| | |
| Stavros Georgousis, EngD Student | Alex Milne, PhD Student |
| (Since October 2018) | (Since October 2020) |
| | |
| Suraj Ramchand, Phd Student | Connor Clarkson, PhD Student |
| (Since October 2020) | (Since October 2020) |
| | |
| Yi Hu, PhD Student | Fergus Pick, PhD Student |
| (Since October 2020) | (Since October 2021) |
| | |
| Yiming Li, PhD Student | Vasiles Balabanis, PhD Student |
| (Since October 2021) | (Since October 2022) |
| | |
| Fanzhi Jiang, PhD Student | Eman Alomari, PhD Student |
| (Since October 2022) | (Since October 2022) |
| | |
| Nurhan Bulus Guran, PhD Student | Chen Hu, PhD Student |
| (Since April 2023) | (Since January 2023) |
| | |
| Rosemary Helen Finnegan, PhD Student | Joseph Metcalfe, PhD Student |
| (Since October 2023) | (Since July 2023) |
Alumni:
Dr. Sachin Bahade (01/2018 - 10/2023), PhD
Dr. Michael Kenning (10/2018 - 09/2023), PhD
Dr. Hanchi Ren (03/2019 - 04/2023), PhD
Dr. Hassan Eshkiki (07/2019 - 12/2022), PhD
Dr. Jingjing Deng (10/2018 - 10/2022), Lecturer
Mr. Chen Hu (01/2021 - 09/2022), MSc by Research
Dr. Felix Richards (10/2017 - 07/2022), PhD
Dr. Gavin Tsang (10/2016 - 05/2022), PhD
Dr. Avishek Siris (01/2018 - 05/2022), PhD
Dr. Majedaldein Almahasneh (04/2017 - 04/2022), PhD
Dr. Ali Alqahtani (08/2016 - 04/2021), PhD
Dr. Anastasia Paramore (08/2015 - 02/2021), EngD
Dr. Ehab Essa (03/2019 - 01/2021), Ser Cymru Fellow
Dr. Dave George (11/2018 - 11/2020), Postdoc Research Officer
Dr. Mabduhu Manduhu (10/2019 - 10/2020), Postdoc Research Officer
Dr. Mohammed Ali (08/2016 - 10/2020), PhD
Mr. Hanchi Ren (03/2019 – 07/2020), Research Assistant
Dr. Panpan Ren (10/2018 – 03/2020), External Collaborator
Mr. Joseph Jenkins (10/2018 - 05/2020), MRes
Dr. Taiwei Wang (10/2015 - 04/2020), PhD
Miss Isabel Jenkins (10/2017 - 12/2019), MRes
Miss Katarzyna Szymaniak (08/2018 - 08/2019), MRes
Dr. David George (10/2014 - 10/2018), PhD
Dr. Jingjing Deng (01/2017 - 09/2018), post-doc RA
Mr. Michael Kenning (08/2017-09/2018), MRes
Dr. Mike Edwards (01/2014 - 04/2018), PhD
Mr. Dafydd Ravenscroft (10/2016 - 12/2017), MSc by Research
Dr. Jingjing (Eddy) Deng (04/2013 - 05/2017), PhD
Dr. Jonathan Jones (04/2016 - 08/2016), post-doc RA
Dr. Robert Palmer (10/2012 - 07/2016), PhD
Dr. Jonathan Jones (10/2011 - 11/2015), PhD
Dr. Andy Tappenden (10/2011 - 03/2016, Engineering), PhD
Dr. Feng Zhao (11/2011 - 07/2015), post-doc Research Officer
Mr. Jingjing (Eddy) Deng (12/2012 - 06/2015), Research Assistant
Dr. Ehab Essa (06/2014 - 05/2015), post-doc Research Officer
Dr. Ehab Essa (07/2010 - 05/2014), PhD
Mr. Arron Lacey (10/2011 - 03/2014, part-time), MSc by Research
Dr. Adeline Paiement (10/2009 - 02/2014, Co- with Prof. Mirmehdi, based at Bristol), PhD
Mr. Yaxi Ye (10/2013 - 12/2014), research student
Dr. Huaizhong Zhang (11/2011 - 06/2013), post-doc Research Assistant
Mr. Jingjing Deng (10/2011 - 11/2012), MSc by Research
Dr. Rhodri Bevan (10/2012 - 12/2012), post-doc Research Assistant
Dr. Ben Daubney (08/2009- 11/2012), post-doc Research Officer
Mr. Ren Liu (10/2011-11/2012), MSc by Research
Dr. Dongbin Chen (06/2011-05/2012), post-doc Research Assistant
Dr. Si Yong Yeo (07/2008-08/2011, Co- with Prof. Nithiarasu, based in Engineering), PhD
Mr. Ren Liu (10/2009-06/2011), Master of Research
Dr. Cyril Charron (05/2010-04/2011), post-doc Research Assistant
Dr. John Chiverton (2006-2008, Co- with Prof. Mirmehdi, based at Bristol), post-doc Research Assistant
Dr. Ronghua Yang (2004-2008, Co- with Prof. Mirmehdi, based at Bristol), PhD
Visiting Scholars:
Mr. Lucas Martinet (07/2015 - 09/2015), Institut National des Sciences Appliquees (INSA) Rouen, France
Mr. Marco Cingolani (2009), UNIVPM Italy
Mr. Marchionni Paolo (2009), UNIVPM Italy
Group Photos: